NORTHWEST FLOWER AND GARDEN SHOW 2016: AMERICA THE BEAUTIFUL
"NEW YORK, NEW YORK: CAT PADS! ON BROADWAY"
Designed by: Felix Jones and Joshua Bathke
Created by: Felix Jones, Joshua Bathke, Judith Jones, and Vanca Lumsden
Tested and approved by: Our Seven Adopted Felines
Our garden features a New York themed Catio showcasing fun and functional ideas for creating a safe space for our furry friends in a small area. Humans are of course welcome to enjoy the garden too, as long as they don't mind watching a live production of "Cat Pads! On Broadway", as our kitties strut across their very own Brooklyn Bridge Catwalk, bounce on Broadway (check the daily marquee for show titles!), preen on 42nd street, and take in the sights of the South Street Pawport.
The garden is enclosed by a custom-built cat-containment fence designed to keep cats in without overly reducing visibility from a terrace or balcony, and includes a plethora of perches for playing and snoozing. The custom catwalk and climbing structures are designed to allow the cats to circumnavigate the garden from a high vantage point. Water is available both from a filtered drinking station or the river fountain which is surrounded by grasses that are irresistible for chewing, laying on, or playing hide and seek in. To discourage kitties from leaving buried treasure in the garden beds, the garden features a litter box disguised as a wrecked ship where cats can leave their own "sunken treasure." And most importantly, plants were carefully selected to be non-toxic and harmless to cats, while any plants with noted toxicity are cleverly protected and inaccessible to cats but can be safely enjoyed by humans.

Thousands of abandoned or lost animals are killed in America's shelters every day, and a catio is a great way to keep your cats safe while still allowing them to enjoy the outdoors. Even if you already have a safe space for your pets, or even if you don't have pets, please consider adopting a pet or giving generously to the no kill shelter of your choice. Every contribution will help to save our furry friends!
If you have cats, love cats, have a small balcony, terrace, or patio, or even if you are looking for ways to keep your neighbors' cats away from your favorite plants, we hope you find inspiration in our fabulous kitty couture garden!
CATIO STRUCTURES AND PROPS:
Brooklyn Bridge Catwalk, Crow's Nest, Custom Cat Containment Fence, Cat Proof Acrylic Terrariums and Cat Chime designed and built by:
Felix Jones and Joshua Bathke
of Fancy Fronds Nursery - Email: fancyfrondscustomerservice@gmail.com
Climbing Tree, Arbor Seat, and Bistro Set designed and created by: ALBE Rustics
Find their products sold at A Lot of Flowers, City Peoples, Ravenna Gardens, Sorticulture
Phone: (360) 331-4115; Email: ponds@whidbey.com
Pottery, Cat Statues and Granite Fountain provided by: AW Pottery
See their website http://www.awpottery.com/ for retail outlets
CATIO FOLIAGE:
Fancy Fronds Nursery Retail /Mail-order Garden Fern Nursery offers a world-wide selection of standard favorites and new introductions. We specialize in hardy garden ferns, English Victorian cultivars, Desert ferns, unusual Spikemoss, as well ferns and companions for miniature gardens and small spaces.
Check out our wide selection of cat-friendly ferns and upcoming events on our website: www.fancyfrondsnursery.com
Or contact us to year-round make an appointment to visit our nursery in Gold Bar Phone: (360) 793-1472; fancyfronds@gmail.com;
Facebook: Fancy Fronds Nursery
Additional foliage provided by: Cascade Cuts, Northwest Nursery, Tissues and Liners
The plants for our exhibit have been selected specifically because they are non-toxic to cats, and any toxic plants have been covered or made inaccessible to cats. The ASPCA's website features a large plant toxicity list, which was an invaluable resource for picking plants that are safe for kitties, and avoiding plants with high toxicity (visit https://www.aspca.org/pet-care/animal-poison-control/cats-plant-list for more info). While some cats may not have any issues with munching on toxic plants, we suggest you watch your cats and kittens carefully as the list is only a guideline!
CATIO RESOURCES and SPONSORS
Catio Tour Seattle: Sponsored by Catio Spaces, PAWS and HSUS. Tour is on Saturday, May 21, noon to 4pm. Suggested donation is $10. www.CatioTourSeattle.com for more information
Catio Spaces offers custom designed and built catios in the greater Seattle area and do-it-yourself (DIY) Catio Plans.
www.CatioSpaces.com or (206) 919-0107.
Like them on Facebook! https://www.facebook.com/CatioSpacesinthenews.
Thank you to O'Loughlin Trade Shows for arranging plant subsidies or discounts at the following wholesale nurseries: Cascade Cuts, Northwest Nursery, Tissues and Liners, and to Sawdust Supply and Marenakos for helping us create gardens on concrete. They help us look spectacular for you!
Special thanks to Michael Michalak of Gold Bar, WA for making our custom wooden signs for the garden, and to Falling Water Gardens of Monroe, WA for supplying our water feature supplies and to Jenee Beaurain for all her hard work!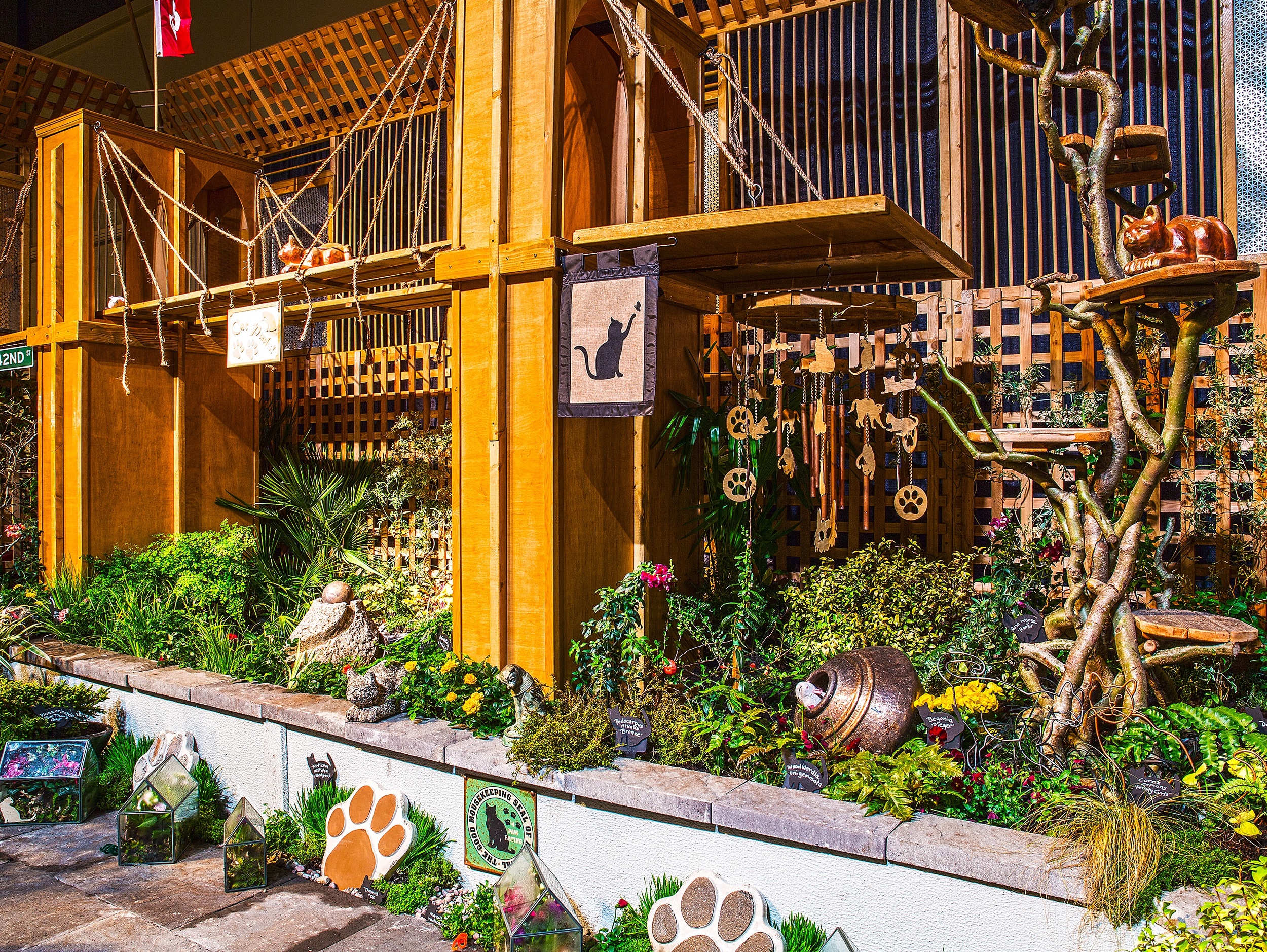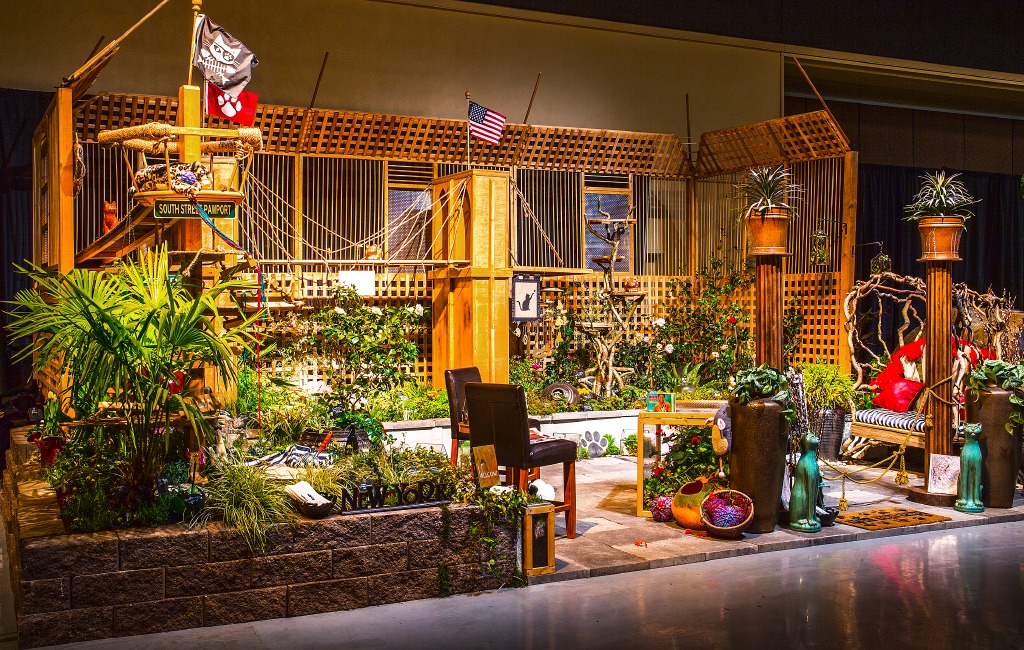 1
2
3
4
5
6
7
8
9
10
11
12
13
14